Wii hits the right cord, PS3 struggles to stay in tune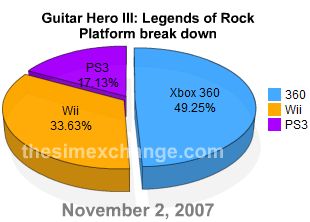 Since inception, multi-platform titles have had little success on the Wii. Madden NFL 08, NBA Live 08, and Spider-Man 3 are just some of the big name titles that have failed to attract Wii consumers. The American publishers have had more difficulty than international publishers, raising concerns regarding their effectiveness to take advantage of the increasingly large Wii install base.
A different story emerges as the Wii version of Guitar Hero III is expected by the prediction market to hold a 33.63% market share of the next-generation SKUs. More significantly, consumers purchasing the Wii version have no option but to purchase the $89.99 bundle with the guitar Ė a definite revenue bonus for Activision.
The prediction market is clearly indicating that even though multi-platform titles have struggled on the Wii platform, there is light at the end of the tunnel. The prediction marketís expectations imply that Wii consumers prefer originality over conformity, innovation over similarity, and more importantly, titles that are just simply fun to play. Other contributing factors to the success of Guitar Hero III on the Wii include the lack of a competing version of Rock Band, which is not available for the Wii platform.
The prediction market expects that the PS3 version will only capture 17.13% of sales among all next-generation systems. This could hint at a slowdown in PS3 software salesóa trend already observed with Lair and Heavenly Sword in September.
Electronic Arts - Rock Band
Scheduled for late November, Rock Band will be Electronic Artís and MTVís first venture into the guitar peripheral market. Luckily, they are backed by the experience of Harmonix Music Systems, which developed the previous two Guitar Hero games. Market driven forecasts for both US November sales and global lifetime sales of Rock Band on the Xbox 360 platform are available from the simExchange prediction market. Rock Band will have 11 days of sales in the retail month of November.
Lifetime Worldwide Unit Sales

US First Retail Month Unit Sales

The prediction market originally expected sales as high as 250,000 units for Rock Band (Xbox 360), until EA announced the $169.99 bundle as the only SKU available until 2008. Traders were greatly concerned with the viability of this strategy and the prediction market downgraded an original 230,000 units sold forecast to its current level of 150,000 units for November. The recent announcement of possible supply constraints has not resulted in any changes in the market expectations for November. Though the prediction market is not discounting EAís announcement, it has become ever too popular for companies to claim software/hardware constraints to boost press coverage and publicity.

Given the prediction marketís expectations, Guitar Hero III will more than likely outsell Rock Band in November, December, and over the lifetime of the two games.

Implications for the future

Peripheral based titles within the music genre have grown in popularity over the last 2 years, which has ultimately resulted in more competition entering the market. Based on what the prediction market expects, Electronic Arts, MTV, and Activision should all be able to sustain profits from yearly titles in the peripheral market, although margins will not be as high as in the prior years.

The simExchange, LLC does not issue any investment ratings or investment recommendations for any publicly traded company. The accuracy of the opinions or data in this report is not a guarantee.

Permanent Link

|

Digg

|

del.icio.us

|

Facebook








November hardware sales

| | | |
| --- | --- | --- |
| Xbox 360 | 836K units | 0.00% |
| PS3 | 378K units | 0.00% |
| Wii | 2.04M units | 0.00% |
| Nintendo DS | 1.57M units | 0.00% |
| PSP | 421K units | 0.00% |

November software sales

Subscribe research via email

Subscribers will receive reports before they are posted here.

Please use your company email address.

The Feed

Add the Research Feed